Engagement Model
Insight PLM engages organizations whose businesses depend on the timely delivery of a "New Product" or successful delivery of complex "Projects" in on-time and on budget by addressing their business pains and challenges through world class products and service Delivery.
Service Map
Consult:
Strategy, Potential Analysis
Strategy development and identification of potentials in business process
Process Design, Optimization
Design, harmonization and optimization of business processes or specific sub-processes
Business Oriented Architecture
Definition of a business-oriented IT Architecture and Solution Roadmap
Design and build:
Project and Product Intrinsic Solutions
New Product Development (NPD) Process
Product Data and Lifecycle (PDM / PLM )
Knowledge Based Engineering (KBE)
Project Management (PM)
Project Controls and Site Execution
Enterprise Integration
Operate:
Application Development and Support (AD&S)
Cost-efficient operation, support and maintenance of the PLM & PM IT landscape. Progressive Value Generation through user adoption support continuous improvement of the application landscape and processes.
Industry Focussed Services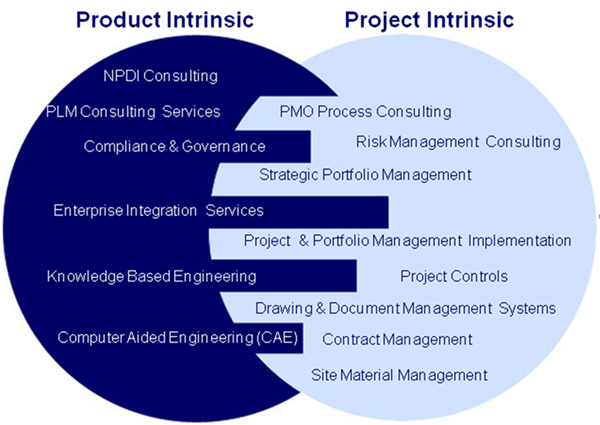 Click here to read about our Product Intrensic Services >